Introduction
Taking your personal growth and professional development up a level and transforming into your best self, will equip you to succeed and be fully prepared when the post-pandemic boom hits ! 
This applies to you if you are an executive climbing up the career ladder, an entrepreneur starting out or expanding the business, or a seasoned business leader who wants the business to thrive.
In this blog, we'll relate our experience in transitioning to Up Your Level, what it means to us, and how that translates to you. We'll also share the 3 first steps you can take to Up Your Level. 
Why is it Important to Up Your Level
 

?

 

Improving yourself will impact your personal and professional life as well as your community. 

For our team, there are numerous reasons why you should do this, but of primary importance are the need to:
Become better at what you do and love;
Raise the game of leadership and grow even through adversity;

 

Leave a positive impact on your team, loved ones, business & community.
"When we strive to become better than we are, everything around us becomes better too." Paulo Coelho
This was our thinking behind stepping up our new brand image, which still represents our core values and commitment in a clear, bold yet relatable manner. It also reflects how our brand has evolved, the individuals behind it and how we aspire to inspire and empower our audience. 
# 3 STEPS to Up your Level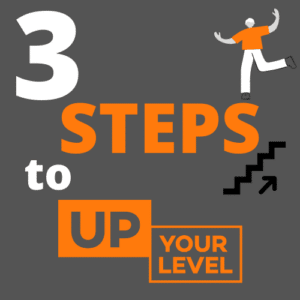 #1. Reflect Internally 
Your value and belief system is a great place to start, as this will be reflected throughout the process. We went through the thinking process of coming up with our core values individually.  It was interesting to see the variety of words and phrases we each used which reflect our individual traits, yet with a unified message. 
We then went on about how we want to make you feel: 
Inspired ! We inspire people first

 

Empowered ! We want to empower you and give confidence

 

Excited ! Excitement is what pushes people to want to do more.

 

Engaged!

 

Engagement is deeper than face value, it's true, it's emotional.
Heartfelt ! We want to touch people's lives and make them better.

 
By giving yourself time to reflect, first as individuals then as a team, you connect with your inner self and how it is linked to the business, and can then collectively come up with the overarching purpose to carry through the journey. 
#2. Connect Externally 
Bringing in an external advisor who is an expert in the area you wish you upgrade, or a coach who will guide your journey is the next step to reach your targets.
This is where the transition happens.  
Someone outside of your business and/or industry will use tactics and ask certain questions you would have probably not thought of doing yourselves internally. 
It was during a development workshop with Growth Gurus that Alex singled us out to identify our individual thoughts and form our own aspirations about the brand before sharing and discussing the principles as a team. 
It would have been an easy step to miss when you're used to doing things a certain way: such as meeting to brainstorm rather than allocating private time to come up with individual ideas first.
One of the aspirations which stood out was "To raise the game of leadership in our community (finance, ethics, governance, people, environment, sustainability etc) – and enjoy doing it!"
An external advisor will also contribute ideas outside your thinking circle, fuelling creativity and triggering innovative ideas you can transform this new data into.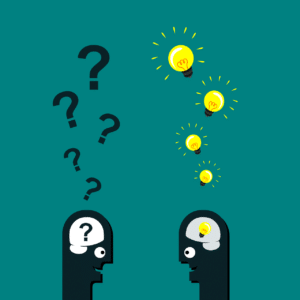 #3. Create your Roadmap 
After going through the first two phases, setting the strategy will follow the initial work through. Unfortunately this is where most executives struggle.
After the excitement and motivation of embarking on this project, the busyness kicks back in and it's easy to abandon the project because you get caught up in the day to day. 
Sounds familiar? 
A good plan to resolve this is by setting bitesized goals that contribute towards the overarching aspiration. By making them SMART (Specific, Measurable, Achievable, Relevant & Time-Bound) and respecting each element, your new level will begin to form.
In businesses, where various teams are involved, we use the OKR (Objectives and Key Results) method which has proved to work efficiently by cascading the overarching goals across teams. This OKR system was used by Google which saw them grow from 40 employees to more than 60,000 today. It's used more and more across a number of other successful giants such as Linked-In, The Guardian & Spotifiy, however it can be tailored it to smaller outfits and we have used it in a number of SMEs locally who had great success with the programme: 
"I wanted to thank you for the help and guidance you gave my team and I during 2018. We truly managed to reach what we thought was unreachable from a change management perspective. We also had a record turnover, with a 20% increase over the prior year and the OKRs worked wonders in helping us achieve that!"  Thomas Zammit, CEO – Elektra Malta 
The roadmap can be created more effectively by having someone accountable for it and a support system throughout. Other ways of achieving this is through executive coaching, transformational leadership programmes, performance workshops and mentoring. 
To Conclude
This rebrand process has been a very positive experience for us and we're looking forward to continue lifting people up and guiding leaders to achieving their business and life goals.  
What does Up Your Level Represent ?
Elite – We will help you extract the best version of you, so our clients are the elite.

 

Playful – Results will come with the right mindset, allowing room to gamify the journey

 

Unconventional – We do things differently, in the way we believe works best for your needs

 

Relatable – We enter a partnership with you and together we'll optimise your success.

 

Innovative – We like new ideas and are constantly growing and updating our knowledge base.

 

Trust – We will guide you to unlock your maximum potential in a safe and trusting environment
In summary, don't ever stop improving yourself. 
Growth is a life-long process and when we stop growing as people, we stop living. Even if you only make small upgrades to your life, such as learning something new, gaining intelligence in your industry or bettering a skill you already have, you are growing and this will impact your business and your life! 
Start by allocating a mental space for internal reflection to identify where you want to go
Seek an external advisor which can be a professional or even a trusted friend
Create your roadmap in a SMART manner to set off on your self-improvement journey.
Invitation
To celebrate our journey, we would like to invite you for a free 30-minute coaching session with one of our business, life or wellness coaches. 
Simply contact Daphne on [email protected] to book your free session!