You've taken the leap and decided to bring a coach into your life to help you raise your game, deal with an issue, get "unstuck" or guide you in building or growing your business. Perhaps the opportunity has been created for you, and your workplace have gifted you with a series of coaching sessions to help you grow as a leader, individual or team. 
You've chosen the coach you feel resonates best with you and where you want to go, and schedule your first session ! 
This is when all the questions start flowing in…One question I get asked very often when scheduling the first coaching session for a client is "what do I need to prepare". 
Yet there are many other questions floating around in the coachee's mind such as: "Where will the session take me?" "What will I have to do?" "Will I need to talk about my past""What if I have nothing to say?" "Will there be "homework"?" "How am I expected to react?" "Should I study before the session?" "Will the coach tell my boss what I say?" 
In this post I will discuss the coaching experience, frequently asked questions, and what coaches expect (or do not expect) from their clients to have a successful coaching session. 

What is Coaching, and Why Does it Matter?
The true nature of coaching is to let the client's mind run far and wide, daring it to get out of the comfort zone to get a peek at what they can possibly achieve, fuelled by their passion and aligned with their core values. 
Coaching can be a life-changing journey. Most people embarking on this path already know this which is why they have all these questions before their first session. 
"We believe that if we harness the power of our own mind we can achieve anything. We, and our self-limiting beliefs, are our worst enemy."
How to maximise the value of a coaching session?
In order to make the most of your precious time and extract the highest value from the coaching experience, here are a few guidelines that can help you : 
Before the session: 
Take some time to reflect on what is top of mind for you right now or what is currently bothering you. Don't overthink it, it's usually what you're thinking about the most even if its at the back of your mind ! Writing some points down in the run up to the session will ensure you don't forget to mention anything important that you wish to discuss.

 
Clear your mind a few minutes before the session. You can simply take a few deep long breaths, take a five minute walk or do a few gentle stretches. This will help you be more open to dive into the session and more receptive to absorb the content.

 
Ensure you won't be interrupted for the duration of the session. Inform your family or colleagues who are in the same unit not to disturb you and turn off your phone or leave it outside the room. Even a message headline popping up can detract your train of thought!

 
During the session:
Keep a notepad at hand. You might wish to take some notes on something memorable the coach said, an idea that came up during the session or some action points to do after. You might prefer to take notes on your phone or laptop but this is usually distracting. We suggest to take rough points on traditional paper and, if you wish, to put them into your cloud to carry with you everywhere, take a few minutes to type them out after the session. This exercise will help you reflect on the session content and internalise the outcomes.

 
Be honest and don't hold back ! A coaching room is a safe place. Everything you say here is confidential, even if your company is sponsoring the sessions, every word exchanged is protected by the Chatham House Rules which ensures a 100% confidentiality agreement between the coach and coachee and nothing will be disclosed to your boss or colleagues !

 
Be vulnerable. No matter how successful you are, and what image you need to portray to the outside world, here you can finally let your guard down. The deeper you go, the better the coach can guide you. So hang your ego at the door, trust the process and enjoy connecting with your inner self and just being you!

 
Keep an open mind! Get ready to have your ideas challenged and explore solutions you might not normally consider. The scope of the coach is to get the coachee to think out of the box and explore better ways of doing things by reframing their thoughts, maximising their strengths and aligning their values, which are not things we usually see clearly in ourselves.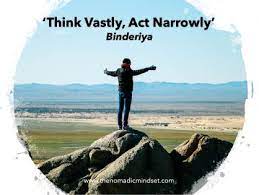 "Think Vastly, Act Narrowly" Inspired by Kevin Cottam's work from The Nomadic Mindset, this quote sums up the concept of coaching which is to encourage the coachee to widen their thinking horizons, then narrow it down to guide you to the next steps.
To Close:
A coaching session is a partnership: You are the expert of you, and the coach is there to guide you towards finding the best path to make your journey as fulfilling and successful as possible. 
The coach will do this by taking you through a process which involves a series of questions, some which may be challenging, and will usually leave you with reflections, suggestions for further reading and/or actionable items to carry out after the session. 
The real success of the sessions is largely dependent on you: let your coach in and let your mind run…
You've taken the first step at committing yourself to level up, now let your coach take you there !  
If you wish to discover coaching and see how it could be useful to you, in your personal capacity or as a business, connect with us and set up a no-string exploration chat here.