Hop, skip and jump your way through your day!
Every year-long programme we start, we kick-off with a session on motivation.
We cross the border of self-motivation, the role of the individual in creating a culture of motivation and how the organisation's leaders fuel that culture.
During a workshop held last week, we explored the importance of distinguishing between what is considered to be extrinsic and intrinsic motivation and focussed on the identification of those intrinsic factors allowing us to get out of bed EVERY morning with the same hop, skip and jump day after day.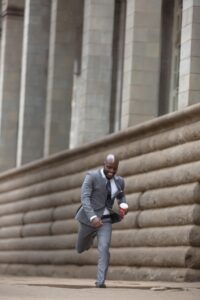 Irrespective of whether it is COVID, the end of summer holidays or your favourite team losing to your arch rivals the night before, intrinsic motivation is where the 'heart' lives and where we are able to make sense out of all the crap that is shown at us, to continue performing at our best.
Of course, there is plenty to discuss and your conversation went from core values, to emotional hijacks, to personal fulfilment and roles and responsibilities we occupy during the course of our days.
The beauty of the discussion was in the understanding that it is ultimately not about finding that elusive balance, but rather an alignment.
Alignment with the roles and responsibilities in and out of work. The alignment between personal and professional growth. Alignment between value and quantity. And the conversation could have gone on well beyond the six we had scheduled.
As employers and leaders, it is important to understand this and not fall into the balancing act trap, because we all know how tough that is.
What you can do: 
Instead seek for these four things in your workplace:
Alignment of personal and professional objectives where both worlds come together to allow for self-actualisation as understood in Maslow's Hierarchy of needs.
Alignment between individual and organisational objectives so that both can be achieved as a result of each other and not at the expense of each other.
A rich, inspiring environment that stimulates healthy competition, celebrating success and offers adequate support structures.
Offers the necessary psychological safety for everyone to trust equally that all are 'in it together' with no hidden agendas or fear of backstabbing.
What you can achieve:
With these four elements you can:
– reduce burnout as a result of lower stress levels and higher achievement rates
Your Swiss army knife for motivation:
Never go a day without knowing how your staff are feeling. Develop the art of understanding how engaged and motivated they are and utilise this knowledge to develop a stronger 'intrinsic' way of developing and maintaining a happy, high-performing team.